Regular price
$4.95 USD
Sale price
$7.55 USD
Unit price
per
Sale
Sold out
The White Graduation Graduation Cap boasts an amazing look, durable construction, and comfortable style created from a 100% Comfortable Polyester Finish. Each White Graduation Cap is fitted tightly onto at 9" inch x 9" inch square mortarboard. Cap is made to "Fit Most" due to the sewn-in elastic band. With the raised button on the top part of the hat you will be able to fit all of our tassels and most others.
Shipping & Returns

Shipping

Regular Items 

All orders will ship within 1-2 business days after your order is processed. You will be notified by email or phone number provided at check out. In the rare case that one or more items in your order became temporarily out of stock, we will notify you by phone or email and offer options to wait for backorder or change to a similar product. 

If you would like to ensure your order be shipped on the same day, the order must be placed with expedited shipping by 1:30 pm EST on a business day. You can also follow up with a phone call (347-669-4696) to verify availability. We will do our best to accommodate your needs.

Custom made or imprint items 

Custom Doctoral gowns and hoods, including custom masters hoods, take about 4-6 weeks to receive after the initial order and art (for embroidery if chosen) is approved. Please keep in mind sometimes art needs a few revisions so please order in advance.

Custom Stoles, Diploma, etc. with Imprint Selected.

Custom made or imprint items which ship in 5-10 business days (1-2 weeks) after the order is processed and all artwork and styles are confirmed. After your order is shipped, it will take another 1-5 business days for delivery, depending on your location and shipping method selected. For your reference our shipping warehouse is located in Seattle Washington. In general, it's safe to say your customized product will be delivered in at most 20 days after order and style confirmation.

Business Days 

Business days are Monday-Friday. We do not ship on Saturday, Sunday, or Federal holidays and they are in general also not counted in transit time. 

Carrier Delays

If your order is lost or delayed by UPS or USPS, we will help start the carrier's investigation to help locate your order. Because of the uncertainties of the investigation results, we will not issue a refund unless the investigation has no result in 14 days or the investigation is completed. We are not responsible for delays due to weather, carrier mishandling, or incorrect address provided. 

Refused Delivery and Returned Package

A customer who refuses an order at the time of delivery, or provided an undeliverable address will be responsible for the shipping cost as well the return cost. If a misdelivery or returned package falls into the carrier's responsibility, we will assist you to open an investigation and send you a new package.

International Shipping

Customers outside U.S. may be responsible for local import and/or sales taxes and fees. We cannot advise the exact amount as it could vary in each country, province, and city. It is recommended to research on the possible additional cost of tax before placing the order. 



For any special requests, please contact a sales representative at 347-669-4696.


 
Dimensions

Sizing your cap and gown is easy!

The first measurement you need to know is your height.

We size our gowns by height, so if you are 5'5" you should choose the gown designated for the height range 5'3-5'5.

If you are 6'1 you would choose the gown designated for the height range 6'0" - 6'2".

The second measurement you should be aware of is the circumference around the largest part of your body, this is usually your chest or hips. This will determine if you need a wider gown which we refer to as FF or XL. Our FF or XL sizes are not longer, but only wider.

If you wear a tshirt size starting at XXL or larger our FF or XL sizes will most likely not fit. If you need an XXL or larger please send us an email and we will help you find the right gown!

If you chose your size using our guidelines, your gown length should fall somewhere below your knee, but above your ankle.

If you would like the gown to reach just above or slightly covering your shoes, please consider choosing the next size up.

This is also good advice for those planning to wear lifts, heels, platforms, etc.

Please feel free to take a look at

our sizing chart

to better understand how our gowns will fit.

If you have any additional questions please reach out and we will be more than happy to help you!

 
Care Instructions

Hooray, you've got the gowns! Here are our tips on how to take care of them, so you can look fabulous on your big day. 

Shiny Graduation Gown, Shiny Choir Gowns

Clean:

Hand wash: hand wash in cold water; Hang to dry
Dry Clean

Dewrinkle:

Iron: Use low heat with towel between the gown and iron
Steam: Low setting
Hang: Leave hanging for 48+ hours
"The Shower Hack": Run a hot shower while placing the gown near the shower (avoid water splashed on gowns) and leave the bathroom door closed for at least 20 minutes. 

Matte Graduation

 

Gown, Matte Choir Gowns, Master Gowns, Barrister Gowns, Doctoral Gowns 

Clean: Dry Clean only
Dewrinkle:

Iron: Use low heat with towel between the gown and iron
Steam: Steamer Low Setting 
Hang: Leave hanging for 72+ hours 
"The Shower Hack":

 

Run a hot shower while placing the

 

gown near the shower (avoid water splashed on gowns) and leave the bathroom door closed for at least 20 minutes. 

Graduation Caps - Matte/Shiny

Stoles, V-Stoles 

Clean: Dry Clean Only
Dewrinkle:

Iron: Not recommended, if doing so, make sure to use a thick piece of fabric between the stole and iron
*Warning: DO NOT iron customized stoles. Ink may melt. 

Steam: Steamer Low Setting
Share
View full details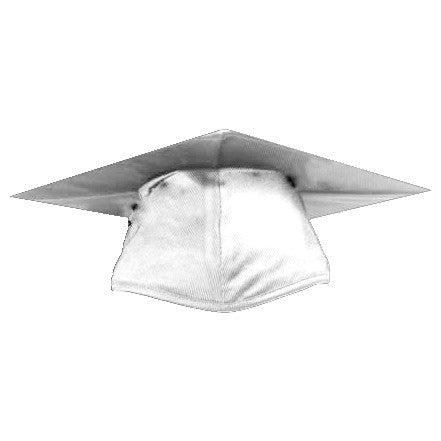 Great caps!
I was very happy with the color and condition of the caps!!!
Smartly adorned
Great Service! Great Product! Honorably adorned our top honor graduates at our 50th HS reunion.
Lighthouse Review
Great service as usual, all was great, but seemed like some were children's sizes rather than adult. I thought I had ordered adult. I will double check this year. Could have been my error. We had to use a lot of pins and stretch! Otherwise, a great product and quick/easy service! Thank you!